Today's question is, Adsense Auto vs Manual Ads – Which one is better? We will solve this question using some parameters. User Experience, Website Speed, Revenue and implementation of code. Which one is the best in terms of User Experience.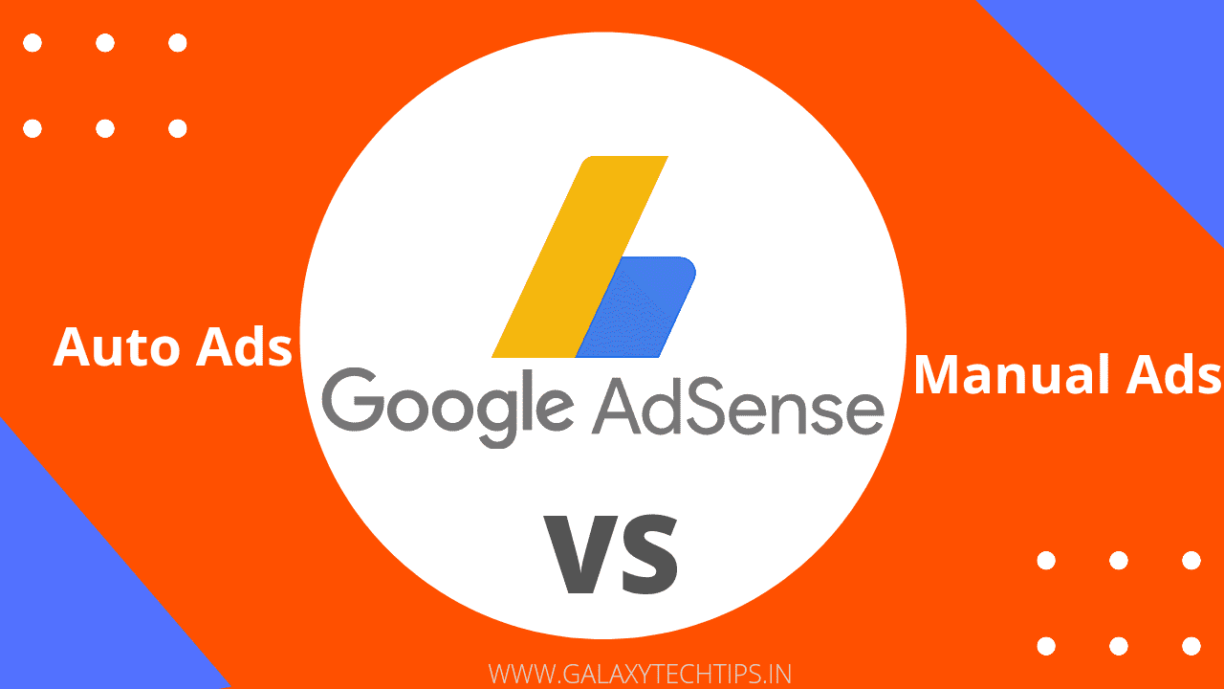 Adsense Auto ads Vs Manual Ads
Below are results we found in our experience. Take a deep look to results and you can decide yourself which method is best for you.
Implementation of ad codes
In terms of implementation auto ads is much easier than manual. Managing ads manually is little bit tricky for beginners but no need to worry. Many wordpress plugins like Ad Inserter Pro and Advanced Ads are available in the market, you can easily manage ads on your website these plugins.
Website Speed
When i applied auto ads on my website and checked the website using GTMetrix and PageSpeed Insights. I got results very bad in GTMetrix score was 42 to 58 as many times i checked. Also in PageSpeed Insights score was 37 to 46 for mobile and 64 to 76 for desktop.
Now turn is manual ads, ofcourse i created 7 ad units in my Adsense account. 1 unit 728×90 for above the article for desktop or Table and 320×100 for mobile devices. 4 units 300×250 for between the article, 1 unit for below the article or above the footer. And last 600×300 for sidebar for all devices.
After placing all ad codes on my website i checked my website again in GTMetrix and PageSpeed Insights. Guess what, I was shocked from results. It was much much better than adsense auto ads. In GTMetrix new score was 68 to 82 (B and C). I checked my website in PageSpeed Insights also after changing ad codes. Score was 47 to 71 for mobile and 72 to 90 for desktop.
Pro Tip : I manage my ads using Ad Inserter Pro an alternative of Advanced Ads plugin. It provides bunch of features for me and saves my adsene account from ban or terminate. I can set maximum ad clicks and ad impression within a time period, per user etc. Also Ad Inserter Pro provides report about clicks, impression etc within my wordpress dashboard. Just it has lots of feature, i can't explain here.
User Experience
In our experience we found Adsense Auto ads decrease user experience and become reason an increasing bounce rate. I think you also noticed when you'll visited on any website. They come together when anyone open any post or page and irritate user.
In other case, Manual Ads don't affect user experience unlike auto ads.
Revenue
Revenue from Adsense auto may increase compared to Manual ads in some cases. If Max ads applied on your site then may be you could make more money than manual. But in our experience we found mostly auto ads bids are based on CPC model, that's mean if anyone click on ads then you will get money otherwise not.
Revenue from Manual ads can increase in these cases. If CPM based ads showing on your website you'll get revenue, doesn't matter anyone clicks on ads or not. Also Manually placed ads looks catchy that may increase your CTR.
Conclusion
That's why we don't use auto ads provided by Google. But here is best alternative Ezoic available in the market. Auto ads provided by ezoic AI Optimised, that's mean more revenue, better user experience and website speed. Or you can manage your ad units manually using Ad Inserter Pro or Advanced Ads plugin
FAQs
What is auto ads in AdSense?
Auto ads in AdSense is single code implementation technology that's mean you don't need to put many codes in your site, just paste a single code in header of your website and take rest. Adsense auto ads will work for you.
What AdSense ads pay the most?
According to our experience and expert, 300×250, 728×90, 320×100 and 600×300 ad sizes are top performing units. But 300×250 ad size is most used and number one at this time.
What happens if you click on your own AdSense ads?
Google doesn't allow self click on your own ads. Please keep in mind if you click on your own ads your account can be temporary or permanent ban from using adsense. So be careful, don't do these type of activities.
How can I add AdSense to auto ads?
Are auto ads good?
Well, according to our experience we couldn't find it better for us. But this is best for beginners who even don't know how to manually implement and manage ad codes. Auto ads make website slow, that's not good for SEO.
How much does AdSense pay per 1000 views?
It depends on advertisers bid, keyword, GEOs, device type and pricing model. Suppose 1000 views or impression made through your website, 600 bids base were CPC model and 400 CPM model then you'll get earning on 400 views not for all. You'll get revenue on 600 CPC model bids if anyone clicks on ads.