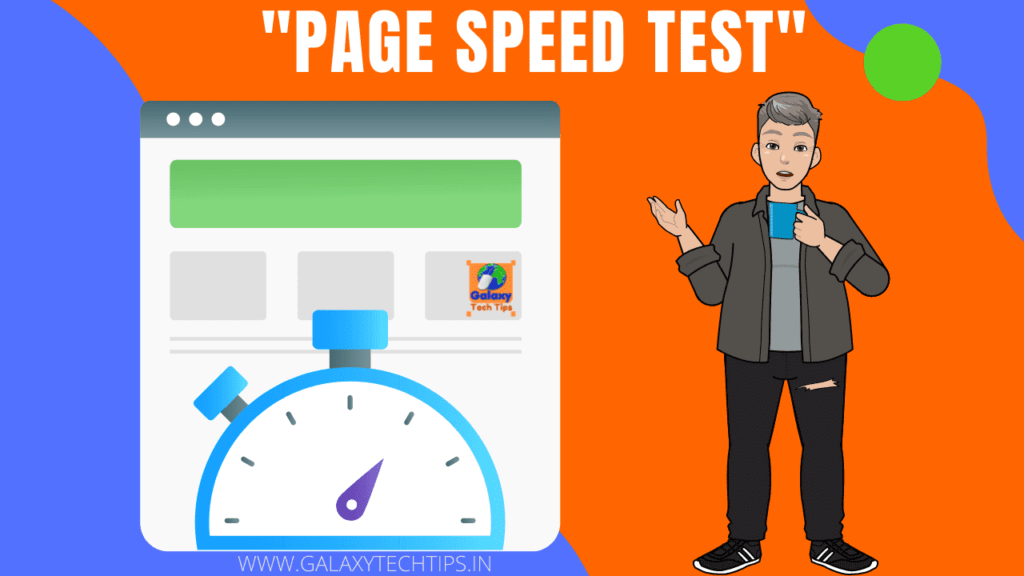 Do you know, Billions of website exist in the web World. Many Businesses, Ecommerce, Bloggers, Digital Marketers and more compete with each other. Every single web owner wants their website on top in search results. Fast and SEO Optimised websites are always on the top as usual. There are many Page Speed Test Web Software Tool and Auditing Software available in the web Market. Some of them best and powerful tool are here in our list. We Recommend a complete SEO and Competition analysis tool for your Website, like SEMrush.
Before Page Speed testing, make sure you have good hosting because hosting perform a major role in speeding up your website. We Recommend Hostinger Hosting or Bluehost Hosting for beginners according to your budget. Also choose a well Optimised theme for your Website.
WebPageTest – Deep PageSpeed test and Basic Auditing Tool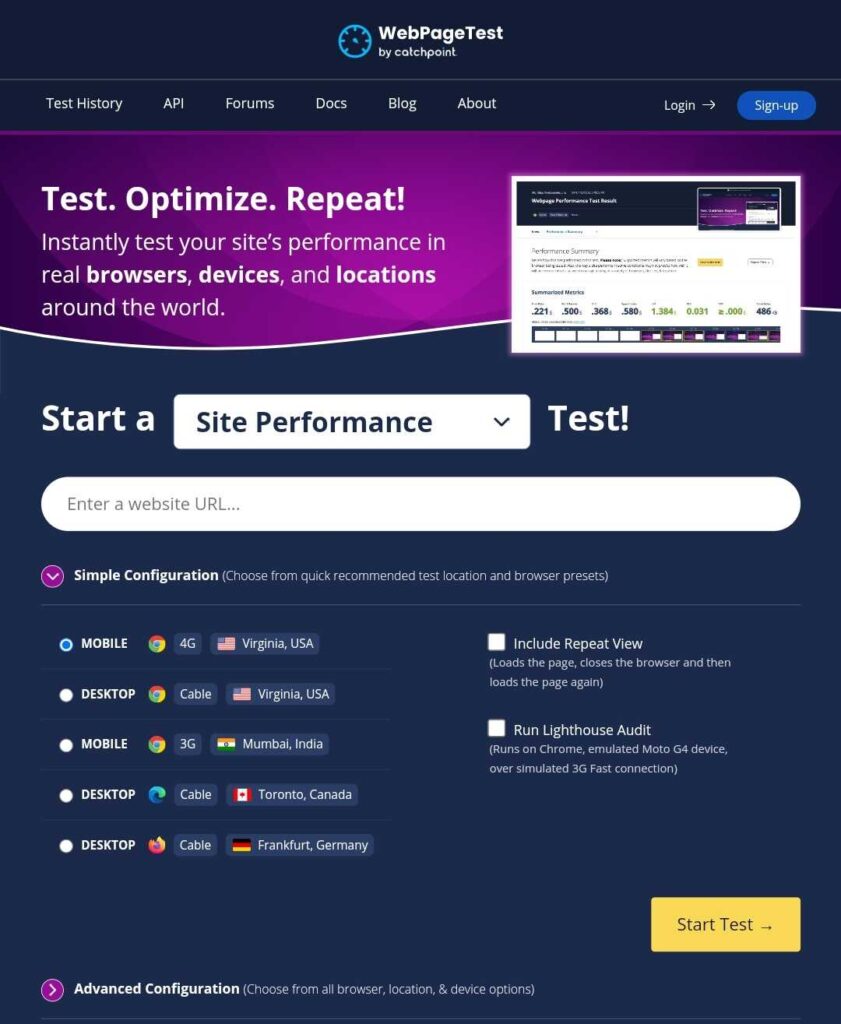 This Tool is best for Page-Speed Test. WebPageTest gives you two options for testing your site Performance and Speed.
Simple Configuration
Simple Configuration gives you a quick Performance report. Galaxy have a option to choose "Include Repeat view" by check the box. Techy, don't forget you have a one more option "Run Lighthouse Audit" also check that box.
There are many options available for Page-Speed Testing. You can choose a preferred location and device type for Performance or Speed of your website.
Advanced Configuration
Advanced Configuration settings is best for deep Performance and WebPage Speed Test. You can choose upto 9 repeat view and Capture a Video about real-time Performance. Galaxy can choose network connection type like Cable, 3G Slow, 3G, 3G Fast, 4G, LTE, Mobile Edge, 2G, FIOS, Native Connection and Custom.
Choose your preferred Location from around the world. There are many locations available from Asia, North America, South America, Europe, Africa and Oceania region.
Now set browser for Testing your site Performance and Speed. There are lots of browser type available like Chrome, FireFox, Edge, Brave, Motorola, Nexus, Google Pixel IPhone etc.
You can ignore or Disable some settings like, SSL certificate errors, AVIF Image Support, WebP Image Support, JPEG XL Image Support and Other in advanced section if you want.
Great Thing is that, You have a option for Visual Comparison between two Pages, and it's totally free. WebPageTest "Page Speed Test Web Software" just have lots of feature, we can't explain in single town.
Pagespeed Insights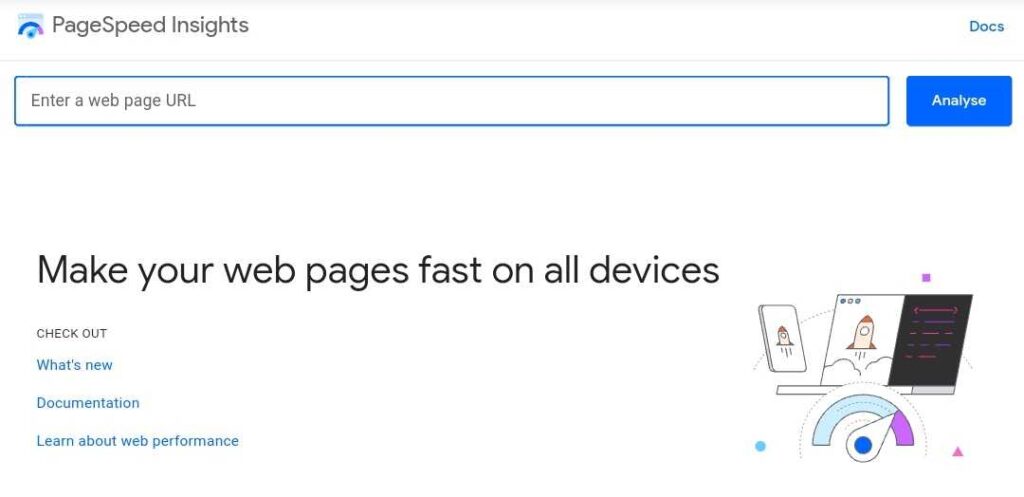 Pagespeed Insights checks full Structure of your website. And gives you suggestions about unoptimized things exist in your website. Pagespeed Insights Tool have 3 types of Scoring Parameters Low, Average and Good. From 0 to 50 low, 50 to 90 Average and 90 to 100 is Good Score.
It also checks server response time. For server response time, two things perform a major role role, Hosting and Theme. We always suggest a better Hosting and well Optimised theme for your Website.
Pagespeed Insights tells about Unoptimized Images, CSS, JAVA Script, Render-blocking resource, Duplicate Recourses, First Contentful Paint, Time to Interactive, Total blocking Time, Largest Contentful Paint and more. Web owner can optimize his/her website from help of this "page speed test web software".
GTMatrix – Page Speed Test Web Software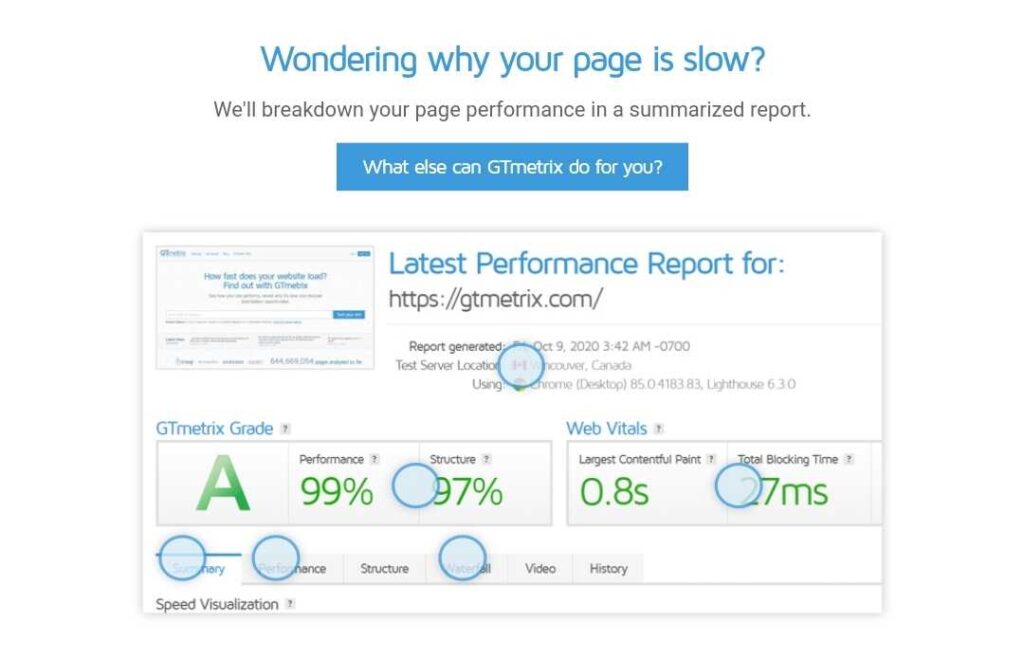 GTMetrix is another best Tool for measuring Website's Speed and Performance. GTMetrix Tool measures any website in two Parameters Performance and Structure, and gives a Grade A to F and Score 100 to minimum as result. A grade and 100 is highest score for any website according to GTMetrix Page-Speed Test Tool. From 90 to 100 are Good Performance and Structure Score for any website or Web-Page.
Avoid Large Layout Shifts, Reduce unused CSS, Properly Size Images, Defer offscreen Images, Reduce initial Server response time, Avoid chaining critical requests, Use a content delivery network (CDN), Total blocking Time and much more check for any website.
It records a Video about real-time Performance and fully loaded time for Web-Page and also shows Speed Visualisation. Best thing of this tool is it Saves test results on the server for a particular time. GTMetrix shows Waterfall chart about how your Web-Page perform in real time.
Pingdom Page Speed Test-Tool
Pingdom Test-Tool is most popular web software. This software has a Grade system for measuring Website's Speed and Performance score. Pingdom Test-Tool tells about Page size, Load time and Total request made by browser. It also tells about Total Images, Script, Font, CSS and HTML Size used in Web-Page.
Compress Components with gzip, Add expires headers, Use cookie-free domains, Make fewer HTTP requests, Reduce DNS lookups, Avoid empty src or href and Put JavaScript at bottom are the main parameters for analysing a website. Each Parameter gives a Grade from A to F, where A is the highest score.
DotCom-Tools – Page Speed Test Web Software
DotCom-Tools is new giant in the web World. Webmasters can perform Page-Speed test from 3 locations at same time and compare results with each other. First set a browser from in Chrome, FireFox, Edge, iOS and Android. Now choose a preferred resolution for performing a web Speed test. You can also choose a network connection type like 2G, 3G, 4G or No Throttling.
It's time to check all Header Responses and Errors. Also you can differentiate in First visit and repeat visit. In most cases repeat visit load faster than First visit. If you are using well Optimised theme like Astra or Jannah then your website speed Score should be Good. Well, Check your website speed and if you not satisfied with that then start optimising now.
Google web.dev – Core web vitals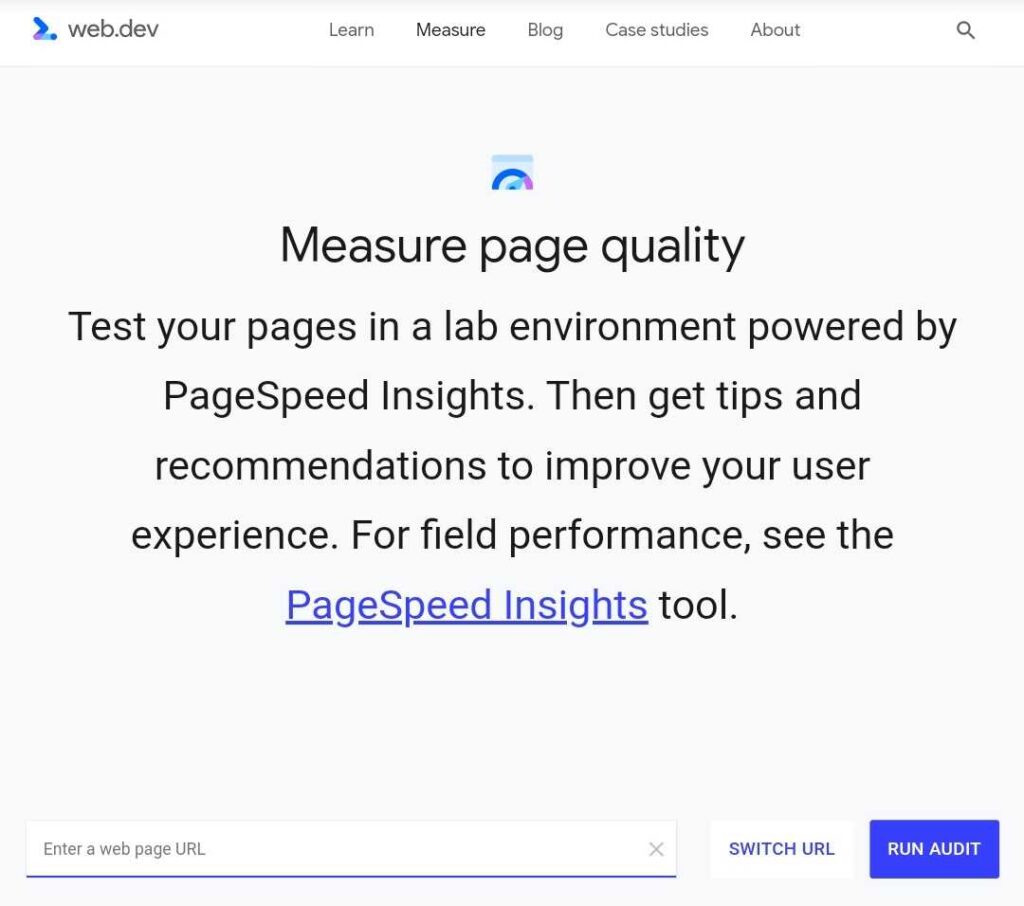 This Tool is best Choice of Dev for Checking Core web vitals. With this tool, Webmasters can optimize their website for better SEO. It checks Performance, Accessibility, Best Practice and SEO of a Website.
Accessibility makes website mobile and user friendly. Best Practice makes website secure and browser friendly. SEO stand for Search Engine Optimization who makes Web-Pages Search Engine friendly and rank high in Google or Bing. You can optimize your website with this tool for SEO, Best Practice, Accessibility and Speed.
FAQs :
How can i check my website speed?
You can check your website speed with PageSpeed Insights, GTMetrix, Pingdom and Other Popular Tools.
How to increase website page speed?
You can increase your website speed by using well Optimised theme, a good Hosting and selecting best Plugins.
What is a good speed for website?
According to PageSpeed Insights and GTMetrix from 90 to 100 is Good Score for any Web-Page.
What is a good page speed time?
According to PageSpeed Insights and GTMetrix below 2 Seconds time is good score for fully loaded a Web-Page.
Does page speed improve rankings?
Not directly, but yes a fast website improve rankings because when user come on any website and if website not load within 2 Seconds then high chances to go back from your website whom search engines don't like.
What is a bad page load time?
More than 2 Seconds load time for any Web-Page is bad score according to PageSpeed Insights and GTMetrix.