AdMaven is CPM, CPC and CPA based Advertising and Monetization Network. This company are working from more than 10 years and it is rapidly growing as top Popup, popunder and InPage Push traffic driven network.
It's Team committed to Quality, Transparency and Consistency. Admaven network works with all types of Advertisers and Publishers (Small, Mid and Large).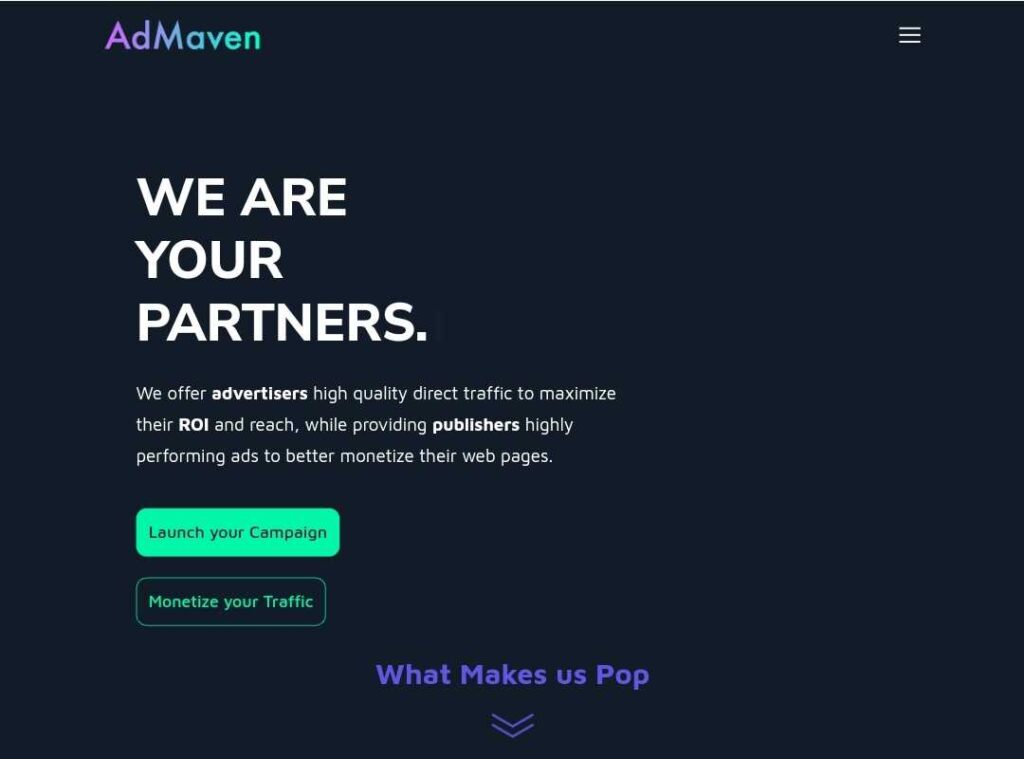 This Network has good reach around the world including US, UK, Canada, India and Nigeria. There is no restrictions, all types of Publishers (Small Publishers, Mid Publishers and Large Publishers) can monetize their blogs or websites using this network. Admaven review may help you in finding answers to your question.
Pro Tip – Ad Inserter and Advanced Ads are great wordpress plugins for Creating and Managing ads placement in your website without knowledge of any coding skills. Easy to use plugin gives you advantage managing ads placement by category, Posts, Pages, Widgets etc.
Bonus Tip – Is your website slow? or Is your website or Server going down? If yes, don't worry. We have solution for you to this problem, you can make your Website's speed like a rocket. Try Bluehost Hosting for your important WordPress website. Don't have enough budget, not a problem we have another great option for you. Just try Budget friendly Hostinger Hosting for your great website.
Verticals and GEOs
AdMaven network works with some most popular verticals. Here are some top performing verticals by this network. Almost, This network covers all GEOs including Asia Pacific countries like India and Pakistan.
Verticals
This Network works for many Verticals but some top performing verticals for publishers are Gaming, Downloading Gaming, Subscription, Downloading hacks etc.
AdMaven Ad Formats
This network provides multiple types of ad formats. Banner, Popup, Push Notifications, In-page Push (Push Banner), Interstitial, Content blocker and Double click push these are ad formats you can use on your website for monetization.
AdMaven Content Blocker
This ad format enable an object on your website, user can only see original content after subscribing to push notifications.
In-page push (Push Banner)
In-page Push (Floating Banner) is a push format that doesn't require opt-ins. Publisher or Blog owners also see drastically increase revenues with these ads that well engage to users. These Ads are well delivered to all OS and browsers, including iOS. You can get higher CPM from AdMaven for this format.
AdMaven Review for Pops Ads
Usually Pops Ads opens in a new tab of a browser when user clicks on any element. This is a popular, high engaging, top-performing and full-screen ad format. You can choose between New Tab, New Tab-Under and New Window. Make more money with AdBlock Technology.
Interstitial Ad
Interstitial ads are non-full-screen native banners that overlaps your website content. Publishers may get little higher CPM rates compared with traditional banner. What next, this ad format is user-friendly and compatible with desktop and mobile both. Best thing is, Users have full control over these ads, they can easily skip by pressing "X" button on the ad.
AdMaven Double Click Push
A banner that pops a push notification subscription request. This is Suitable for HTTP and HTTPS domains.
AdMaven Push Notifications
Push Notifications is a medium for long term income. Network can send push notifications on behalf a website or App. Once a user subscribe through your website you'll get revenue on each impression until user not unsubscribe. Each Subscribed user agent will be able to get push notifications. Incredibly user-friendly and catchy push Notifications don't affect UX or Google rank.
AdMaven requirements
This network doesn't have a minimum traffic requirements. Admaven network is open for all type publishers and Advertisers (Small, Mid and Large).
AdMaven CPM rates – It depends on GEOs, Verticals, Device type, demand from advertisers etc. So AdMaven CPM rates can be vary according to above and some other parameters.
AdMaven Pricing Model
This network provides mainly 3 Pricing models for Advertisers and Publishers.
CPA : CPA stand for Cost Per Acquisition that's mean if anyone takes a action (Subscribe, Sign-ups, complete a survey etc) through your website you'll get income for that.
CPS : CPS stand for Cost Per Subscribe that's mean if anyone Subscribe from your Website's ad, link or directly you'll get a earning for that action.
CPM : CPM stand for Cost Per Mille (Cost per Thousand) that's mean you'll get money on every 1000 ad impression. Prices can be vary according to Verticals, GEOs and advertiser's demand.
CPC : CPC stand for Cost Per Click that's mean if anyone click on Advertisement from your website, you'll be able get some earning for that. CPC also can be vary according to your GEOs, Verticals, and eCPC.
AdMaven payout method
This network has almost all popular payout method for publishers. Payments used to made by this network Net30 basis.
Note – Default payout model is Net30 for all publishers. But if your earnings meet criteria of minimum amount before the payment date then you can contact your manager for take a Payout.
Paypal Payout Method
You can take payout of your earnings minimum $50 in your PayPal account. Indian publishers or bloggers can easily take payout from this method.
Wire Transfer
Withdrawal through Wire Transfer is little bit tricky than other payout method. First of all you'll need a minimum earning $1000 to take a Payout in your Bank account. Less than $1000 earning you can not withdraw through Wire transfer, you have to choose another payout method. Secondly it may take upto 5 days in processing.
Payoneer Payout Method
You can take a payout of minimum $50 in Payoneer account. You'll automatically get your money in your Payoneer account when a payment made by Network Team.
WebMoney Payout Method
As like Wire Transfer, minimum payout amount is $1000 for WebMoney.
Paxum and Bitcoin Payout Method
Minimum payout via Paxum and Bitcoin is $500 for Publishers. You can contact your manager with details for taking a payout in Paxum or Bitcoin wallet.
AdMaven minimum Payout
You can take a Payout of your Money as low as $50 via PayPal and Payoneer Payout Method.
AdMaven Referral Program
Great News, AdMaven has a Referral Program. You can make huge money with it without any restrictions. Just join the AdMaven network, start promoting and earn upto 5% commission.
AdMaven approval
After registering an account as Publisher with AdMaven, you'll be able to add your website to monetize. When you'll add your website to this network, usually approval takes a few hours but sometimes it may take a little longer time than usual. Till then your website will be in verification process. After successfully Approved a website by team, you can create and place ad codes on your website.
You can also read this article for making a difference between AdMaven vs Adsterra network.
Terms and Account Termination
This network has some terms and conditions for making a better place to valuable Publishers and Advertisers. By registering an account with AdMaven you accept their terms. Always keep in mind and follow it's terms otherwise your account might be in risk.
Do not self click : Like other networks, Do not Click on ads yourself or ask anyone to click on ads in your website. This reason may terminate your account permanently.
Copyright Materials : Do not use copyright content ( Videos, Images, Text, Codes etc) in your website without permission of Owner.
Hateful or Illegal Content : Do not Publish or create illegal, harmful or dangerous content on your website. Also that content who produce hate for any human, Product, Company or anything else.
Pros and Cons
Everything have it's own Pros and cons in this world, nothing is totally perfect or worst. We found some pros and cons in this Network.
Pros
Cons
Conclusion
AdMaven network is best alternative for publishers to monetizing their website. Doesn't matter what types Blogger or Publisher you are, Small, Mid or Large. Admaven network is open for all to monetize their websites or blogs. Best thing is, it has various types of payout methods. Various types of Ads Format and Pricing Model make easy to monetize web traffic.
FAQs
How to join AdMaven Network?
You can join AdMaven network with an email account by clicking Monetize Now or Claim Deal button.
Can i use AdMaven for youtube?
Not directly, but yes you can use it on YouTube for making money. Admaven provides referral program that's mean you can earn with any platform through referral program.
Is AdMaven fake or real Network?
AdMaven network is 100% real and genuine platform and It is working from more than 10 years Globally.
Is AdMaven safe?
Yes, it is 100% safe from Viruses, Malware and other vulnerability. Admaven's technology checks advertisers creative before placing it on publisher's websites.
Is Monetization from AdMaven free?
Yes, it is 100% free for Publishers but after earning with this network third party may be charged a small percentage of amount when you withdrawal your Money.